The components from electronic devices often contain harmful matter that could lead to severe problems for those involved either directly or indirectly.
In 2016, humanity generated 44.7 million metric tonnes (Mt) of electronic waste, according to a new UN-backed report.
Only 20 per cent of 2016's e-waste is documented to have been collected and recycled despite rich deposits of gold, silver, copper, platinum, palladium and other high value recoverable materials.
Severe health risks and environmental damage are "widespread" in India due to "very low" literacy levels of the country's over one million people involved in manual e-waste recycling operations, warns a new United Nations report.
The report notes that Europe is the second largest e-waste generator, behind the USA, per inhabitant, but that it has the highest collection rate at 35%. When you compare that to China, who produces around 16 percent of the world's waste and recycles about 18 percent of it this is quite astonishing considering that the USA has around 325 million people to China's roughly 1.4 billion.
The growing volume of electronic waste, including discarded products with a battery or plug, such as mobile phones, laptops, televisions, refrigerators and electrical toys, poses a major threat to the environment and human health, the International Telecommunication Union (ITU) warned.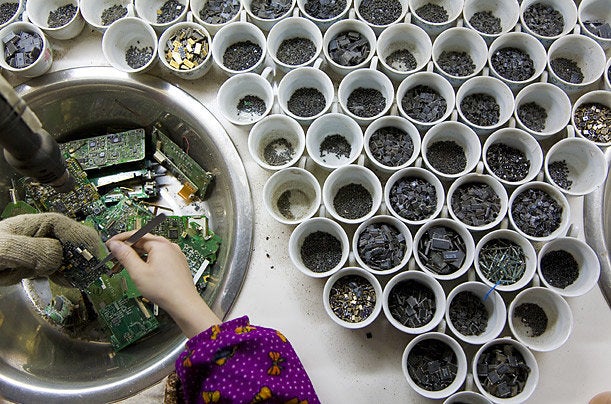 United Nations Sorting e-waste in China
"Without better statistics on e-waste, and closing the main data gaps of current e-waste statistics, it is impossible to measure the effectiveness of existing and new legislation to show any potential improvements in the future" the report says. The report puts the value of the raw materials in that 45 million tons of e-waste at about $55 billion ($9 billion from smartphones alone), but most of that waste isn't being recovered.
Europe (including Russia) followed closely behind, generating 16.6kg per inhabitant on average - although Europe did have the highest collection rate at 35%.
But at the same, time, companies are shortening replacement cycles for mobile phones and other devices, resulting in an increase in e-waste globally.
The report comes as the holiday season fast approaches. The report also points out that the total of the e-waste included a million tons of chargers alone. That's more people using more devices, while recycling efforts lag behind.
Meanwhile, the type of e-waste covered by legislation differs considerably throughout the world, highlighting the need for harmonization. "Improved measurement of e-waste is essential to set and monitor targets, and identify policies". Today, 66 percent of the global population, in 67 countries, live under e-waste policies, up from 44 percent in 2014.
"National data should be internationally comparable, frequently updated, published and interpreted".
LG to unveil new Gram laptops at CES 2018
The next one starts on Tuesday 9 January and one things for certain, we'll be seeing all-new LG Gram laptops while we're there. The entire list of specifications for the LG Gram laptops is now unavailable; more information will be revealed at CES 2018.